The Close The Door campaign has named GEZE UK, which manufactures door and window control systems, as the exclusive sponsor representing the automatic door industry.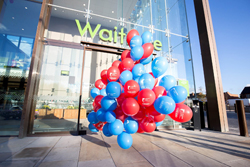 GEZE is the only door control company to support the campaign,
"We are delighted to be supporting the Close The Door campaign," said Kaz Spiewakowski, managing director at GEZE UK, "it's premise is very simple, but the results can make a huge difference to the environment, staff and customers and of course, a retailers' energy spend.
"Sustainability is a big issue to our customers and we spend a lot of time designing energy efficient solutions such as lobbies, but this is wasted if doors are then propped open allowing heated or cooled air to escape. We are encouraging architects and specifiers to use automatic doors as part of their retail designs. Unidirectional radar sensors can be used to ensure automatic doors only open when a user approaches, closing again when they depart, reducing 'hold open' time by 40 per cent - and of course, automatic doors also enable accessibility."
Jeannie Dawkins said: "The aim of the business friendly Close the Door initiative is to make it common practice to close the shop door when using energy to heat or cool the store, or when air pollution levels are raised on the street outside. Despite the many shops that do this, tens of thousands still do not comply. I greatly welcome GEZE's support and input for the campaign. 
"Ahead of the coming winter the National Grid has declared a mere 1.5% spare capacity, barely enough to cover a mild to medium season. Energy has fast become precious and we cannot afford to waste it by blowing it out of thousands of open shop doors in the form of heat.
"Air pollution, largely from diesel vehicles, is a major health problem across all UK towns and cities. Closing the door creates a one third drop in air pollution in store. Keeping the door to the street closed is a simple way to prevent energy waste and air pollution and has great benefits for retailers, staff and the community they serve. There is no downside. It is vital to ethical trading.
For more information about GEZE UK's comprehensive range of automatic and manual door closers call 01543 443000 or visit www.geze.co.uk.