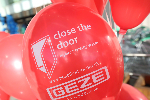 Campaign sponsor GEZE UK have organised an exciting "Retail Round-Table Debate" in at RIBA Headquarters in London this coming Monday (7th March). This is part of continued efforts to encourage sustainable approaches to retail entrances and ongoing support of the Close The Door campaign.
The event is aimed at discussing the harmful effects of open doors in retail environments and investigate how possible design alternatives, such as automated entrances, could help retailers keep doors closed when not in use, as well as discussing the challenges in taking these approaches.
The event is being organised in collaboration with ABC&D Magazine. Representatives from both Marks and Spencer and John Lewis Partnership, as well as from key design consultants, ARUP Associates will be joining GEZE UK and Close The Door around the table on the day.